For seven years, Thomas Schueman (G'19) worked to help his friend, an Afghan interpreter who served alongside him in Afghanistan, secure a U.S. visa and leave the country. 
His friend, Zainullah Zaki, had worked with his Marine Corps platoon in 2010 during the height of the war in Afghanistan. In the years since, Zaki received death threats from the Taliban and had to remain hidden. As the U.S. withdrew from the country and the Taliban closed in during August 2021, the race to help Zaki and his family escape grew more dire. 
One year later, Schueman and Zaki published a memoir about their bond, their experiences in Afghanistan and how Schueman ultimately helped Zaki and his family escape. 
For Schueman, writing the book was cathartic and helped him unpack his experiences during the war — a process, he says, in which he relied upon lessons learned from Georgetown's master's in English program.
The Road to Georgetown
Schueman had served as an officer in the Marine Corps for 10 years and deployed for two tours of duty in Afghanistan before coming to Georgetown for his master's degree in English.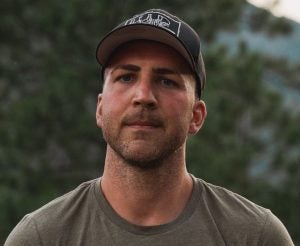 He had been ready for his next professional step, so when the military put out a call that they needed an English teacher at the Naval Academy in Annapolis, Maryland — and that they would fund the candidate's master's degree before coming to teach — he applied for the role.
"I knew I wanted to get outside my comfort zone, but I didn't know how far outside my comfort zone I would get," he says.
However, this opportunity came with a steep ask: Schueman had just one year to complete his graduate degree and gain the credentials required to teach at the Naval Academy. After being admitted to several DC-area schools, Schueman was drawn to Georgetown's Jesuit values, its rigorous academic reputation and the M.A. English program's curriculum.
Once at Georgetown, he had to adjust to a classroom environment — one that was vastly different from the battlefield. The echo of mortar and machine guns was replaced by Socratic-style lectures and learning instead of leading. Schueman said he learned how "to be humble and curious with a desire to learn from others' experiences."