Nohora Arrieta was the recipient of a Mellon/ACLS Dissertation Completion Fellowship in 2020-21 as she wrote her dissertation, Bittersweet Poetics: Aesthetics and Politics of the Sugar Plantation in Brazil and the Caribbean (1990-2018). The interview below has been lightly edited for length and clarity.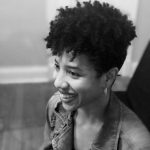 What is the focus of your dissertation? 
My dissertation is about representations of the sugar plantations in contemporary Afro-Brazilian and Afro-Caribbean art. I have a really broad understanding of art, so I work with visual artists, but also with comic artists and poetry and short stories. I tried to trace how these contemporary artists are dialoguing and trying to challenge traditional national discourses from the sugar plantations in the Caribbean and Brazil.  In Brazil and the Caribbean, where nations were funded by the sugar plantations, in the 1930s and 40s there was a huge production of literature about the sugar plantations. What I'm doing is trying to put together these contemporary works from the late 1990s and 2000s with those words from the 30s and 40s. I'm looking at how those ideas and those imaginations of the sugar plantations have been changing through time.
How did you first learn about the Mellon/ACLS Dissertation Completion Fellowship?
When I arrived at Georgetown, I was very interested in looking for funding outside my department, which is Spanish and Portuguese, because usually there's not a lot of funding for cultural studies in Latin America. I spoke with the Office of Graduate Fellowships & Awards at the beginning of my studies, so I knew that something like Mellon existed. Some years later, it appeared in my email and I was like "Okay, I need to apply."
What made you decide to apply?
The main reason was to have more time to write. Before the Mellon, I applied for the Graduate School's Dissertation Research Travel Grant and I got that. With that Graduate School grant, I went to Brazil and after that I was ready to write. A good thing about this fellowship is that there is a commitment to a new kind of research and promoting the work of BIPOC scholars.
How did this fellowship impact your research and writing?
I probably would have a different answer to that question if COVID-19 hadn't happened. I'm from Colombia and I research mainly in Brazil and Brazil was a country that was hit very hard by the pandemic, so it made the final stages of writing really difficult and slow.  The Mellon gave me the opportunity to write, but they also have workshops to prepare us for the job market. In those workshops, I had the good luck to meet other Black women that are doing research related to Brazil and other topics I'm researching.  It was good to have this exchange with other scholars that were living what I was living in that moment. With the Mellon, it's not just the time it gives you to write, to sit, to think, but also the possibilities it gives to network and know other people. That helped me a lot. It was the kind of support that I needed.
The Mellon was also excellent because during that final year of writing, I had a research assistant position in an institute at Harvard University. That was very good, because I was paid by Mellon but I also had the opportunity to have contact with other people in my field.
What advice would you give to students who are thinking about applying for this fellowship?
I think the most important thing is to know the contributions of your research. Second, is to know your field. I'm working with literature, but also with visual arts, performances, comics, sugar historiographies, and Black Intellectual Traditions, so I had to be very clear about the field where I was working, and I think that makes a big difference. The people that review your application are going to be in the field where you want to make a contribution. People from cultural studies and humanities and people who are trying to do interdisciplinary work need to be very clear about the contributions of their research, but also about which corner you are in.
The other thing is that we need to have this conversation outside of academia. In the Mellon application, they ask you for a paragraph where you have to explain your research to someone that doesn't know anything about your research and I really like that about this fellowship.  It pushes you to say why this is important and how you would talk to someone who is not a specialist in your topic. But not just that, it pushes you to say how you are trying to make an impact outside the university space. For the Mellon, that's important and I tried to be very conscious of that when I was applying, because I have been very involved with artistic processes outside academia.
What's next for you?
The next thing for me is that I'm going for a postdoc with the President's Postdoctoral Fellowship Program at UCLA , where I'm going to be researching at the Center for Brazilian Studies and the Latin American institute. I'm also going to continue editing and publishing a journal about visual arts in the diaspora. I'm also excited about teaching. I will be teaching one class at UCLA.