Life in Washington, DC
We've provided two sections to help you get the most out of life in the Washington, DC, area. You'll find information about housing, transportation and what to expect in the section Living and Getting Around. For more on things to do and enjoy in the area, see Cultural Activities.
Living and Getting Around in Washington, DC
Washington, DC, is one of the best cities in the world to be a student. With a mass of scholars research agencies, think tanks, international government organizations, and museums, DC is home to a vibrant academic culture. The international population allows residents to meet people from across the world and experience elements of a variety of cultures. As a hub for students and young professionals, there is always something to do. Washington, DC, boasts active music, art, food, sports, and theater scenes. Georgetown students take advantage of all that the DC area has to offer, as well as the many cultural, academic, and social events hosted by the university.
The Washington Metropolitan Area Transit Authority (WMATA) operates the region's public transportation systems. Metro helps Georgetown students travel throughout Washington, DC, and the nearby suburbs in Maryland and Virginia.
Housing
Georgetown has two offices primarily dedicated to housing for graduate and off-campus students. The Office of Student Living maintains resources for off-campus students and will be offering University housing for graduate students beginning in Fall 2022 at 55 H Street, N.W. Learn more about this exciting new option for graduate student housing.
The Office of Neighborhood Life tries to make living off-campus more manageable and serves as a liaison between the city and students. Their office can assist with graduate students leasing private apartments, rooms, and other housing in the communities surrounding Georgetown University.
Georgetown students often live in the neighborhoods listed in the chart below. Students also live in other neighborhoods, typically along Metro subway lines, including the Red Line in the northwest (NW) quadrant of Washington, DC, and the Blue and Yellow Lines in Arlington and Alexandria, Virginia, located just across the Potomac River from the main Georgetown University campus.
Ballston, VA
Burleith
Clarendon, VA
Courthouse, VA
Crystal City, VA
Dupont
Glover Park
Foxhall
Georgetown
Palisades
Pentagon City, VA
Rosslyn, VA
Rent typically ranges between $800–$1,500 per month, depending on many factors such as location and living arrangements. Some students share group houses, some rent a room in a house, some share apartments, and some live on their own in a studio or one-bedroom apartment. Utilities vary widely, but generally cost between $80 and $150 per month.
The Office of Neighborhood Life operates the Summer Housing Opportunities Program each June that includes a housing fair and gives you the opportunity to stay free on campus for one weekend to conduct a housing search. The Student Living Office manages the Off-Campus Housing Listings to help find rental units and to help match potential roommates.
Students have successfully found places to live on Georgetown's Off-Campus Housing tool, craigslist.com, PadMapper, ApartmentList.com, Zillow, and Trulia. Except for Georgetown's Off-Campus Housing tool, these sites are suggestions and are not endorsed by Georgetown. Students will also advertise for roommates and rooms for rent on their program's e-mail list.
Live at 55 H St | Opening Fall 2022
Georgetown University will be offering brand new studio, 2-bedroom, and 4-bedroom apartments at 55 H Street, NW, when its approved off-campus housing for graduate students becomes available in Fall 2022. All units are fully furnished and feature full kitchens and washer-dryers; utilities and usage fees are included in the price of rent. Living at 55 H St means you will get to live, study, work and explore at the heart of the nation's capital. Visit graduate housing for additional details, and stay tuned for announcements as we get more information.
Transportation
The Washington Metropolitan Area Transit Authority (WMATA) operates the region's transportation network and helps students travel around the DC, Maryland and Virginia area. While there is no metro station in Georgetown, the University operates free shuttles to the Rosslyn and Dupont Circle metro stations, the Law Center, and the Arlington Loop route. Many WMATA bus lines also service Georgetown: the G2, 30N, 30S, 31, 33, 38B, the Dupont-Rosslyn Circulator, and the Georgetown-Union Station Circulator.
Washington, DC, is often rated one of the best cities in the country for people who do not own a car, and the area around the University has a WalkScore of 90. The University is a short walk from close to 100 restaurants and eateries, more than 100 retail stores, several parks including a waterfront on the Potomac River, and entertainment. Most other neighborhoods are walkable and accessible by metro or bus. This is a bicycle-friendly city, each year laying miles of new bicycle lanes and expanding its successful bikeshare program, Capital Bikeshare.
Parking can be a challenge in the Georgetown area. The University has a paid parking garage for commuting students, staff, and visitors. While some students choose to drive, most will come to campus using some form of public transportation or walking/bicycling. Most apartment complexes have parking garages or lots and street parking passes are available to local residents.
Climate
Washington, DC, is a four-season city. Spring and Autumn are temperate, Summer is hot and humid, and Winter is cold. Extreme rain and snow are unusual. July is the hottest month of the year with an average high of 88F (31C); January is the coldest with an average high of 43F (6C). Extreme temperatures greater than 100F (38C) or lower than 20F (-7C) are rare.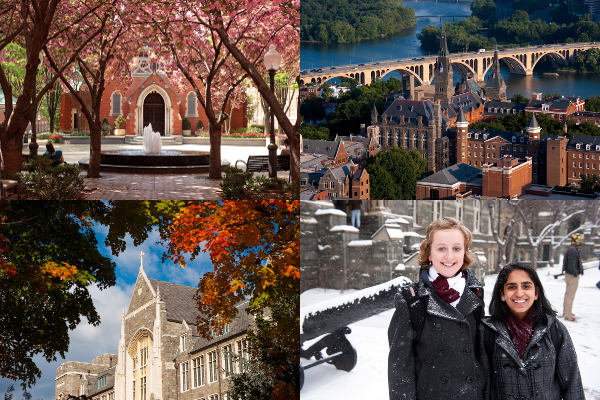 Washington, DC, one of the liveliest cities in the world, is exceptionally student-friendly. The city is home to eleven traditional universities with graduate programs and recent graduates from all over the world. Many of the museums, speakers, and events are free, benefitting the academic and personal development of our students.
Cultural Activities in Washington DC
Arts & History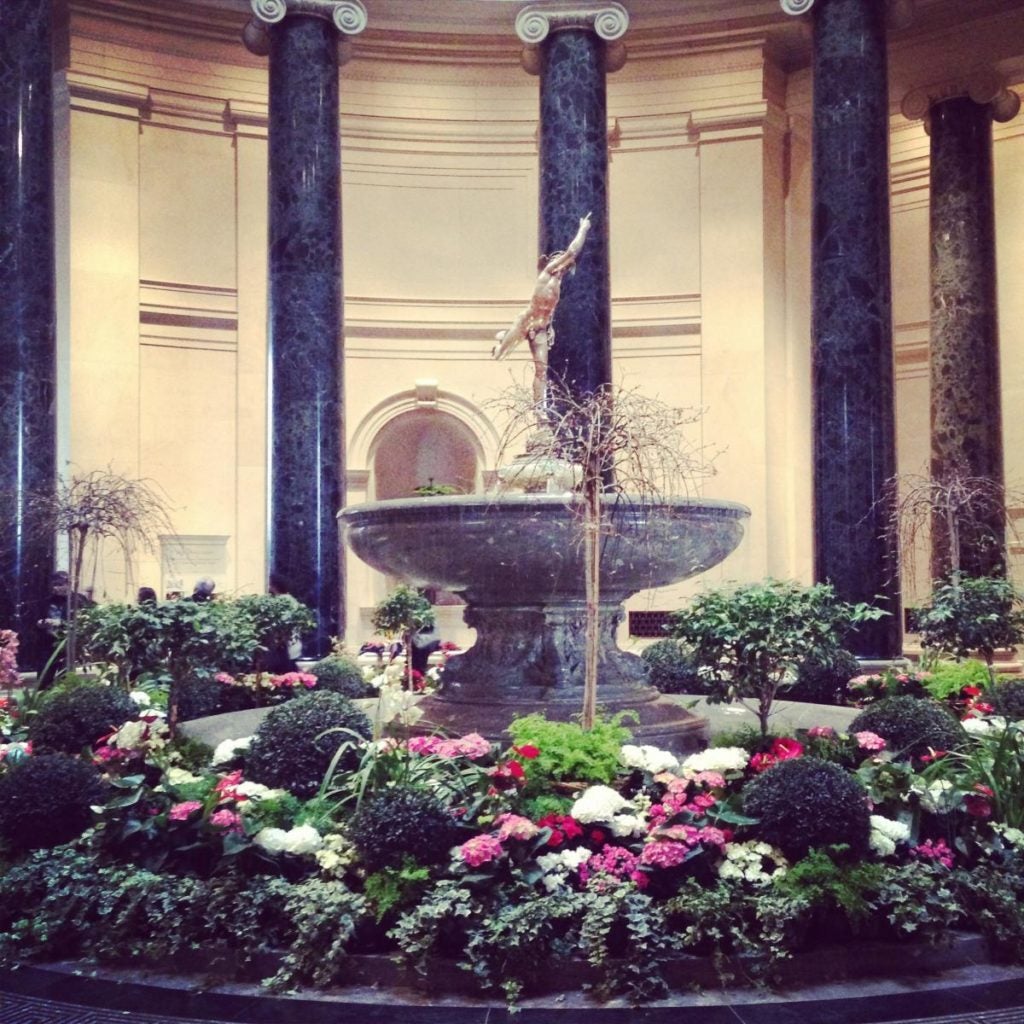 The National Gallery, pictured here, houses a portion of the United States' art collection. Like many museums in Washington, it is free to all visitors.
The Smithsonian Institute, the largest museum system in the world, is headquartered just three miles from Georgetown's main gates. All 18 of the Smithsonian's Washington museums and facilities offer free admission and countless opportunities to explore, learn, and reflect. The National Gallery of Art, the art collection of the United States Government, is also free for visitors, and houses art from early antiquity to today. Other acclaimed museums include the Holocaust Museum, the National Museum of African American History and Culture, and the Corcoran Gallery.
On a smaller scale, there are numerous art galleries, pop-up displays, video and photography shows, films, documentaries, and dance performances. Walks through the diverse DC neighborhoods highlight the distinct artistic and cultural flavors of the area.
Music & Theater
Washington, DC, has music venues for a variety of musical tastes. The Kennedy Center is home to the National Symphony Orchestra and plays host to major performances across genres. The 9:30 Club, often considered one of the best small music venues in the country, serves fans of all types with a full calendar. The smaller U Street Music Hall caters to an eclectic crowd, while venues such as the Lincoln Theater, the Howard Theater, the Rock and Roll Hotel, Gypsy Sally's (a few minutes' walk from campus), attract fans of specific genres and styles. For a more intimate setting, you can visit area coffee shops and bookstores across the District for live music performances.
Several theaters cater to different audiences in Washington. The Kennedy Center hosts big-name shows and Broadway acts, such as The Book of Mormon, Phantom of the Opera, and Evita. The Folger Theater, part of the Folger Shakespeare Institute, is a national leader in Shakespearean theater while the Wooley Mammoth Theater Company presents original, poignant, and fun shows throughout the year. Other area theaters include the National Theatre and Ford's Theater, the site of President Abraham Lincoln's assassination. Many venues offer discounted or free tickets to students and people under 30, making the theater a good option for a night out. Of course, you can also stay on campus and enjoy a show – the Davis Performing Arts Center puts on student productions throughout the year.
Sports
This is a city that loves its sports. Aside from Georgetown's own teams, Washington is home to professional basketball, baseball, hockey, soccer, American football, and tennis teams. There are semi-professional and amateur teams representing seemingly every sport, from Ultimate Frisbee to flat track roller derby and rugby.
There are many recreational sports leagues for students who want to play instead of watch. Leagues play some of their games around the national monuments – it is not unusual to see a game of soccer in the shadow of the Washington Monument! Just about every sport imaginable is available. Organizations sponsor leagues ranging from the less traditional kickball and bocce to the more standard softball and beach volleyball.
The District is also runner- and bicyclist-friendly. The monuments are connected by parks and trails that cut through the city, providing beautiful, tree-lined routes for runners. Cyclists use the ever-expanding bike lane network. Organized 5k, 10k, and longer runs are common in the spring, summer, and fall and popular among students and professionals.
Dining
You will eat well in Washington. Well-traveled Washingtonians have a taste for the international bringing variety and quality to the restaurant scene. You can try everything from Peruvian to Laotian, and West African to Italian in neighborhoods across the District. For quick meals, there are a variety of fast casual restaurants, some of which are local to the area. One such restaurants, Sweetgreen, was founded by Georgetown alumni! Restaurants are more concentrated in some neighborhoods, particularly ones with nightlife. Adams Morgan, Dupont, and the U Street corridor are popular areas to enjoy both cuisine and nightlife. You can start the night with a concert or show, enjoy dinner, get dessert and drinks, and finish with conversations, events, or dancing.
Speakers and Learning
No matter your interests, there is always a speaker sharing expertise or a panel discussion to enjoy. Think tanks and policy experts regularly plan public events to discuss salient topics and current events. If your interests are in art or literature, the Smithsonian Institute hosts special events, often featuring authors, artists, and original works. Access to these events helps Georgetown students gain exposure and boosts scholarship in addition to personal enrichment. Some hosts popular with Georgetown students include the Brookings Institution, Smithsonian Institute, US State Department, U.S. Institute of Peace, Pew Charitable Trusts, Council on Foreign Relations, Urban Institute, and Freedom House.