GradSchool ROCKS!
Hello!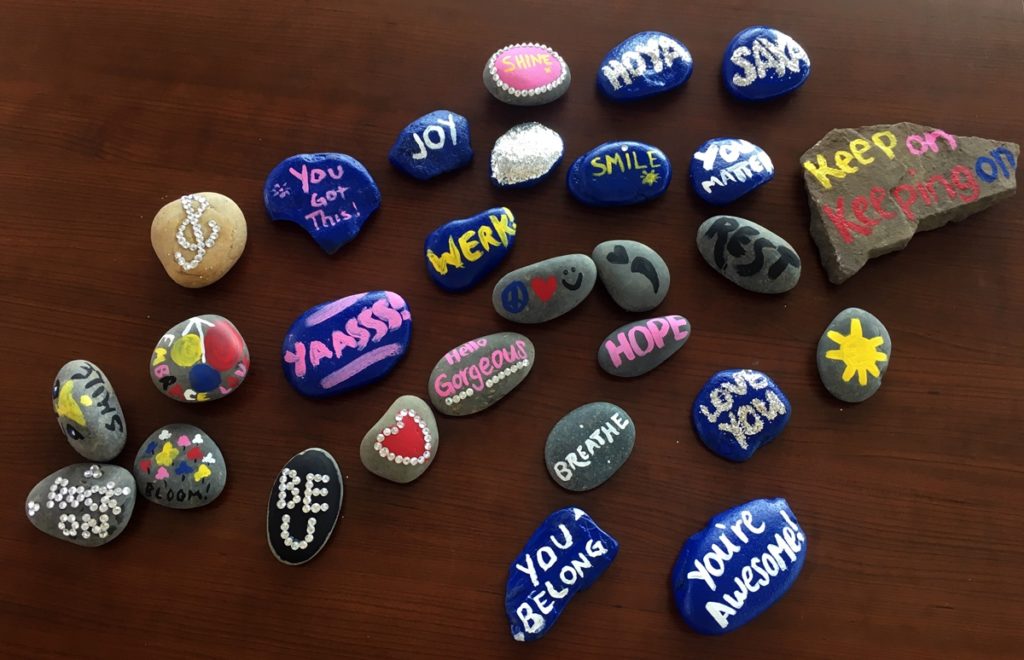 Did you find one of our colorful painted rocks? Are you wondering what this crazy rock project is all about?
GradSchool ROCKS! is a service project of the Graduate School of Arts & Sciences, at Georgetown University in Washington, DC. The purpose of our colorful, fun program is to bring people together to decorate and place 'Kindness Rocks' all across the Georgetown Campus for Georgetown students, faculty and staff, and campus visitors to find. Our part of this project was born out of Georgetown University's GU Rocks project (https://www.facebook.com/georgetownuniversityrocks/) which is a part of the larger 'Kindness Rocks Project' (https://www.thekindnessrocksproject.com/)
We at the Graduate School learned about these projects, saw what others here were doing, and were inspired to participate in order to initiate some change at a local level. While we may not be able to change the world, we can easily take steps to make each other's world just a little brighter.
Our goals are simple:
To inspire others through the simple act of randomly placing colorful and inspirational painted rocks throughout our community.
Encourage every person who stumbles upon one of our rocks to join in and help inspire others through their own random acts of kindness.
So did it work? Were you inspired? Where did you find your rock? Feel free to enjoy it and place it in your own community for others to find. Or perhaps make some rocks of your own. Please share a picture and share your story if you found one of our rocks. We'd love to hear from you.
For more information about GradSchool ROCKS! please contact:
GradSchool ROCKS!
Attn: Danielle Simcic
Graduate School of Arts & Sciences
3520 Prospect Street, N.W.
Box 571004 (Car Barn, Suite 400)
Washington, DC 20057-1004
Email: gradschooldean@georgetown.edu
Let us know what thoughts and ideas this rock may have inspired in you. Perhaps it may start you thinking about your life, your place in the world, and maybe even your dreams and aspirations. We hope so. Or, it's just a pretty rock, which is nice, too.